MY STUDENTS
These are some of my students from recent years.

Benito Meza | Ana Catalina Ramirez Castrillo | Uriel Vanchestein |
Yuan Gao | Marcus Julius Lander | Leah Abbott | Vento Chiaro | Todd Brunel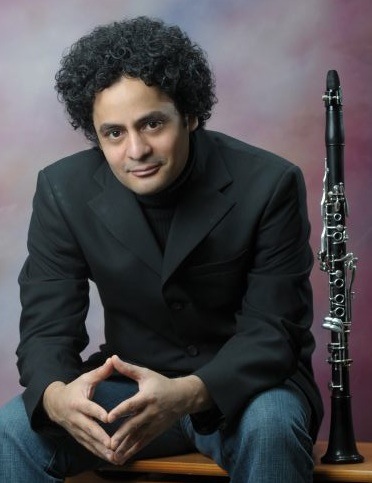 C olombian clarinetist Benito Meza is a winner of Astral Artists' 2009 National Auditions. Since coming to the U.S. in 2003 to study with Jonathan Cohler, Colombian clarinetist Benito Meza has appeared with the Boston Philharmonic, the Youth Orchestra of the Americas, Washington, D.C.'s Modern Music Set, the Gardner Chamber Orchestra, the Modern Music Ensemble, the Los Angeles Wind Ensemble, and on Harvard University's Chamber Music series, among many others. He has also performed and studied with such renowned musicians and conductors as Daniel Barenboim, Philippe Cuper, Paquito D'Rivera, Gustavo Dudamel, Yo-Yo Ma, Ricardo Morales, Charles Neidich, and Luis Rossi, and has appeared in Boston's Jordan Hall, Isabella Stewart Gardner Museum, and the Sanders Theater at Harvard, as well as in Weill Recital Hall at Carnegie Hall, Pittsburgh's Heinz Hall, and at Lincoln Center. He recently recorded famed pianist and composer Danilo Pérez's White for woodwind quintet, for the Mack Avenue Records label.

Mr. Meza grew up in a musical family, and first studied music with his father. At the age of 14 he began clarinet lessons with Carlos Julio Parra Vivas in his native city of Valledupar, and at 17 was awarded a full scholarship to Javeriana University's music program, where he studied with Hector Pinzon and Christopher Jepperson. In 2001 he was invited to study at the National Institute of Musical Studies in Venezuela with Valdemar Rodriguez and Edgar Pronio, and joined Venezuela's world-famous music education program, El Sistema. As a member of the celebrated Simón Bolívar Youth Symphony Orchestra of Venezuela, he made television appearances with Maestro Andrés Briceño.

Also a composer, Mr. Meza's compositions and development as a musician have been greatly influenced by the wealth of varied forms of music he was exposed to throughout his childhood. From the beginning of his career, he was involved with both classical and jazz music, and Colombian folk music, Afro-Caribbean rhythms, and contemporary improvisation are also represented in the structure of his compositions.

Mr. Meza makes his concerto debut with Symphony in C on Astral's series in April 2012.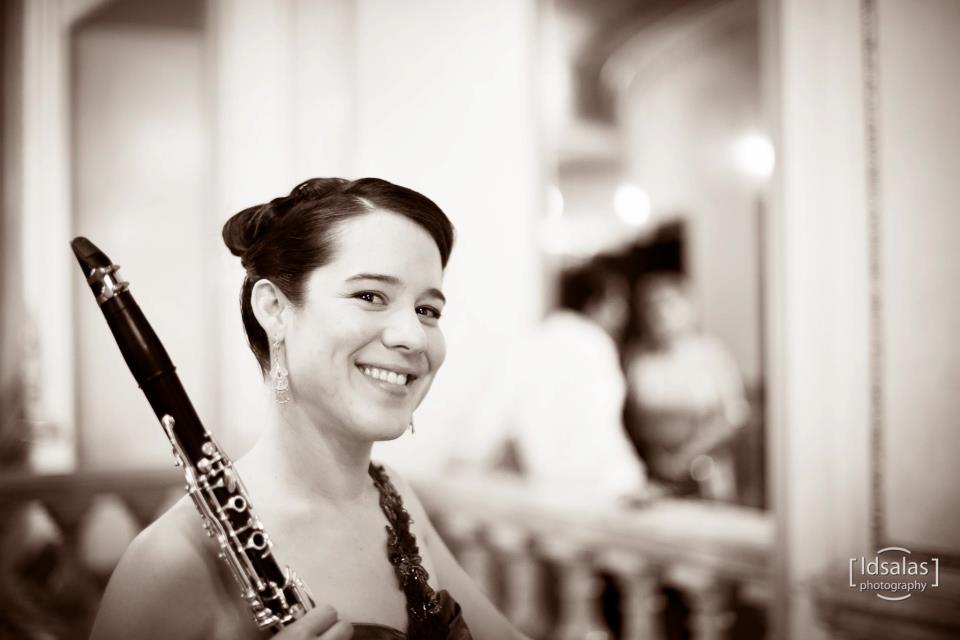 A na Catalina Ramirez Castrillo, chosen clarinetist of the year 2010 by Clariperu's international jury, is known for her versatility as a soloist, chamber and orchestral musician. Born in San José Costa Rica, she began her musical studies at the National Institute of Music of Costa Rica, in 1992. In her country, Ms. RamÍrez was principal clarinet of the Youth Symphony Orchestra of Costa Rica, first clarinet of the National Band of San Jose, second clarinet of the National Symphony Orchestra for a season, and twice winner of the Costa Rica Young Soloist Competition, appearing several times as a soloist with both the Youth and National Symphony Orchestras.

In 1998, Ms. Ramírez travelled outside her country for the first time, for a music festival in the United States. Since then, music has taken her to many different countries and halls in the American continent, as well as abroad. She has performed as a returning solo artist in Costa Rica, USA and Venezuela. She has performed at the Sewanee Music Festival, Interlochen Arts Camp, twice at the International Clarinet Connection in Boston, MA, as a semifinalist in the Young Artist Competition of the International Clarinet Association, at Longy as one of the winners of the school´s Honors Competition, at the 38th International Winter Festival at "Campos do Jordâo" in Brazil, and three times with the Youth Orchestra of the Americas, Latin-American & USA-Canada tours. She has also performed with the New England Youth Orchestra, Brockton Symphony Orchestra in Brockton Massachusetts, The International Youth Orchestra in Murcia Spain, Opera North, Mississippi Symphony Orchestra as principal clarinet for two years, and at Carnegie Hall, as a member of the You Tube Symphony Orchestra.

Ms. Ramírez's principal teachers include Marvin Araya, Frankie J. Kelly, Jonathan Cohler and Michael Sussman. She graduated with distinction from the Longy School of Music in Cambridge Massachusetts, where she received a Diploma in Clarinet Performance. She received a Master of Music degree in Performance and Education from the University of Massachusetts in Amherst.

Today, she is a DMA candidate at Temple University where she studies under the guidance of Ricardo Morales. Later this year she will be recording and performing the Nielsen Concerto in Mexico. - Stay tuned for upcoming CD releases by Pink Records!
L aureate of the Geneva International Music Competition and the AudiMozart International Competition, clarinettist Uriel Vanchestein is also an award winner at the Canadian Music Competition, the I Musici Prize and the Trois-Rivières Symphony Orchestra Competition.

He has been a member of the Verbier Festival Orchestra from 2008 to 2010 and was recently invited to perform recitals and give master classes at the Central Conservatory of Music in Beijing, at the Xian International Clarinet Festival in China, and at the Caracas International Clarinet Festival in Venezuela.

Mr. Vanchestein has also performed recitals for Soroptimist International in Japan and appeared as a soloist with such orchestras as the Geneva Chamber Orchestra, the Haydn Orchestra, the Trois-Rivières Symphony Orchestra and I Musici chamber orchestra of Montreal.

Not only a clarinetist, Mr. Vanchestein is an active composer and conductor. Newly commissioned by the Great Lakes Chamber Music Festival for a String Quartet performed by the Harlem Quartet, several of his works have already been performed on four continents, such as his Clarinet Duet, Duo for Violin and Viola, Cello Suite, Tema con variazioni for Piano, Sonatina for Clarinet and Piano, Duo for Clarinet and Cello, and Requiem for Choir and Viola, which he conducted.

As a conductor, Mr. Vanchestein gave a performance of Wagner's Siegfried-Idyll at the 2009 Verbier Festival in Switzerland and in 2010, a performance at the Conservatoire National Superieur in Lyon.

Recently commissioned by the New York Classical Players, Mr. Vanchestein will be performing his new Double Concerto for Flute and Clarinet with Jasmine Choi, associate principal flutist of the Cincinnati Symphony Orchestra.

Currently a pupil of Maestro Derrick Inouye from The Metropolitan Opera, Mr. Vanchestein received a Bachelor and a Master's Degree from the Juilliard School under the tutelage of Charles Neidich. He also graduated from the École de Musique Vincent-d'Indy of Montréal with Marek Sowinski and studied for two years in Boston with Jonathan Cohler.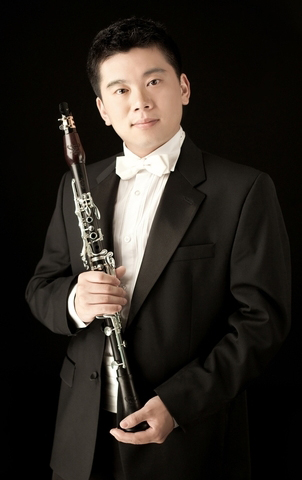 Y uan Gao, started studying at the Central University of Nationalities College of Music in Beijing at the age of 13. He won the First Prize at The Second National Clarinet Competition of China when he was 16. One year later, he continued won the top prize at Jeunesses Musicales International Music Competition in Romania. This honorable record was broadcasted by CCTV (China Central Television) and the government of China also named his name into musician history record.

In 2003, he studied in Vienna, Belgium and Paris with Peter Schmidl (Principal Clarinetist of the Vienna Philharmonic), Eddy Vanoosthuyse (Principal Clarinetist of the Flemish National Radio Orchestra) at the Royal Conservatory of Music in Gent, and Michel Lethiec (Professor at the Paris Conservatory). From 2005, Mr. Gao came to the United States to study with Jonathan Cohler at the Longy School of Music where he earned the Artist Diploma.

Since 2005, Mr. Gao has played Principal Clarinet in the Newton Symphony Orchestra and performed in Lincoln Center (Avery Fisher Hall). He has also played with the Brockton Symphony Orchestra under Jonathan Cohler, and the Boston Philharmonic under Benjamin Zander. In 2006, Mr. Gao's Trio Diamante won First Prize at the International Chamber Music Ensemble Competition (sponsored by the Chamber Music Foundation of New England) and performed at Carnegie Hall. In 2007, Mr. Gao won the Harold Wright Clarinet Merit Award sponsored by the Boston Woodwind Society.

Mr. Gao is the founder and designer of GAO's Royal Musical Collection, Inc. (Clarinet Bells & Barrels) in the United States since 2007. He is also an artist and representative of Rossi Clarinet in China.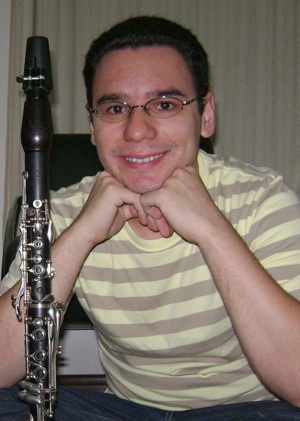 M arcus Julius Lander was born in Sâo Paulo, on June 11th, 1984. He graduated with a major in clarinet from UNESP (Universidade Estadual Paulista). During his college years he studied with Sérgio Burgani.

He started his studies in 1996 with Edmilson Nery at Escola Municipal de Música in Sâo Paulo. He also studied with Luis Afonso "Montanha" in an extension course at Universidade de Sâo Paulo in 2001. Between 2001 and 2007, Marcus received six scholarships for the Winter Festival at Campos do Jordâo, with the opportunity to work with such conductors as Roberto Minczuk, John Neschiling and Kurt Masur.

He has participated in master classes with important international clarinetists, Paul Meyer, Michael Collins, Munfred Pries, François Benda, Jonathan Cohler, Donald Montanaro and others.

As soloist, Marcus played the "Serenade" of Alfred Reed, "Concerto No. 1", by C. M. von Weber and "Concerto em Lá Maior Kv 622" by Mozart, in front of Banda Sinfônica Jovem do Estado from Sâo Paulo, Orquestra Sinfônica Jovem do Estado from Sâo Paulo and Orquestra Jovem Municipal from Guarulhos, respectively.

He was principal clarinetist of Banda Sinfônica Jovem do Estado de Sâo Paulo and the first clarinet of Orquestra Jovem from Guarulhos, Orquestra do Instituto Baccarelli, Orquestra Sinfônica Jovem do Estado de Sâo Paulo, besides being part of Orquestra Acadêmica da Cidade de Sâo Paulo, Quarteto Paulista de Clarinetas and being a teacher of clarinet and music theory of the superior course of Conservatório Dramático e Musical de Sâo Paulo.

In 2008, Marcus was a scholarship student of Mr. Jonathan Cohler in the Master's Degree course at The Boston Conservatory, in Boston, Massachusetts, U.S.A. During that same year, he won the first prize at the Isolist Competition – Brazil, and also was selected to participate of the live audition for the principal clarinet position at the Chicago Symphony Orchestra.

Marcus is the principal clarinet player of the Orquestra Filarmonica de Minas Gerais, one of the most important orchestras in Brazil.

Marcus is a Gao artist.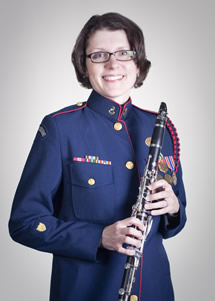 C
hief Musician Leah Abbott, clarinet, was a founding member of the acclaimed woodwind quintet Vento Chiaro. In addition to winning top prizes at the Fischoff and Coleman Chamber Music Competitions, Vento Chiaro was the quintet in residence at the Longy School of Music in Cambridge, Massachusetts. While at Longy, Leah was a concerto competition winner and performed Carl Nielsen's Clarinet Concerto with the Longy Chamber Orchestra. She has performed in the clarinet sections of the Florida Philharmonic, the New World Symphony, the Symphony of the Americas, the Ballet Florida Orchestra, and the Manhattan Virtuosi.
MUC Abbott has taught clarinet and chamber music at the Boston University Tanglewood Institute, the Larchmont Music Academy, and at the Dana Hall School of Music in Wellesley, Massachusetts. Leah earned an Artist Diploma in chamber music performance from the Longy School of Music, a Master of Music degree from the Peabody Conservatory, and a Bachelor of Music degree from the Harid Conservatory. In addition to her musical pursuits, MUC Abbott enjoys reading, jogging, and cooking. She joined the U.S. Coast Guard Band in January 2003.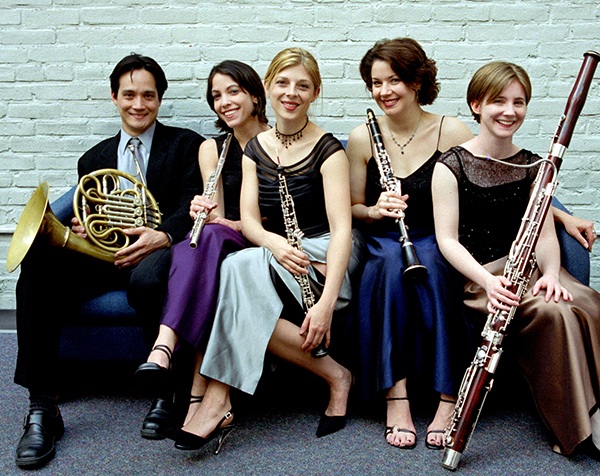 A s one of the country's foremost woodwind quintets, Vento Chiaro captivates audiences with engaging performances and inspiring residencies. Founded at the Peabody Conservatory in 1997 and currently based in Boston, the ensemble places a strong emphasis on breaking down the traditional barriers that exist between performers and audience members.

Since 2002 Vento Chiaro has been the woodwind quintet in residence at the Boston University Tanglewood Institute, one of the world's most renowned summer festivals for talented and ambitious high school music students. In addition to performing recitals, their responsibilities at Tanglewood include coaching chamber music and leading sectional rehearsals. Vento Chiaro was the Ensemble in Residence at the Longy School of Music from 1999-2006, and has held short-term residencies at the Massachusetts Institute of Technology, Providence College, Rockport Chamber Festival, and secondary schools throughout the United States.

Vento Chiaro presents their own recital series in Brookline, Massachusetts, and performs across the country. Their self-titled debut recording on Ongaku records received critical acclaim from Fanfare Magazine and Music-Web International, and they have frequently appeared on WGBH radio. In addition to performances of the standard repertoire, Vento Chiaro regularly collaborates with living composers and performers. They have premiered works by Robert Dick, Howard Frazin and Michael Gandolfi and have other commissioning projects in the works.

The ensemble has garnered top prizes in prestigious chamber music competitions including the silver medal at the Fischoff Chamber Music Competition and the Saunderson Award at the Coleman Chamber Music Competition.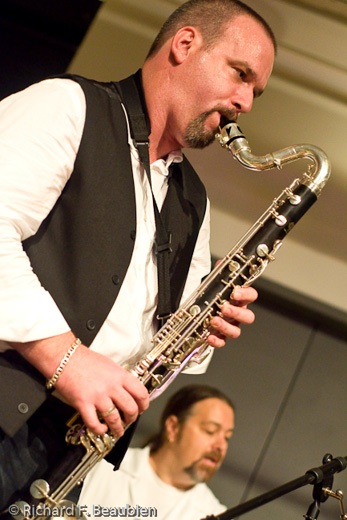 T odd Brunel is a clarinetist and sax player who performs extensively as a crossover classical and jazz musician. He is the director of the Vortex Series for New and Improvised Music, a 2010 grant recipient from the Cambridge Arts Council and the Massachusetts Cultural Council. As an improvisational musician, he is a founding member of Musaner, Benny and Beyond, the Sonic Sandbox, the Circadian Rhythm Kings, the Lilli Lewis Group and often collaborates with pianist David Maxwell, guitarist Garrison Fewell, and singer songwriter Andy Pratt. Brunel has made guest appearances at The International Woodwind Festival, Gallery 119, the Longy School of Music, The East Boston Jazz Festival, The Boston Music Festival, Mobius and the Vortex Other Dimension Festival in Cambridge, MA. As a classical musician, Brunel has made guest appearances at Carnegie Hall, Harvard University, the SEAMUS festival, The Academy of Music Dance and Art in Plovdiv, Bulgaria and has premiered new works for the clarinet by composers Vuk Kulenovic, Pamella Watson, George 'Skip' Brunner, Vache Sharafyan and Mathew D. Harder. He currently plays principal clarinet with the Waltham Symphony and has performed with ALEA III, The Bulgarian Virtuosi and the Opera Ebony of Harlem. He also works with the Lexington Symphony and is often featured as a jazz soloist with the Claflin Hill Summer Winds.

Mr Brunel holds an MM from the Brooklyn College Conservatory, where he was a graduate assistant to Paul Shelden, and he holds a BM from the Boston Conservatory, where he studied with Attilio Poto. He has studied clarinet with Jonathan Cohler, Thomas Martin, Pasquale Cardillo and has pursued jazz studies with Peter Cassino, Bob Mover and composition studies with Sam Headrick. Brunel has attended the Aspen Music Festival, the Longy School and the University of North Texas as a scholarship recipient.

Recent recordings include the Circadian Rhythm Kings (Innova Recordings 2008), Invocation and Dance with pianist and composer Ara Sarkissian, the Rivera Brunel Method, Musaner, "Fools" with Andy Pratt and "Shaker Jam" with pianist Joe Reid. Planned releases in 2010 include and new album from the Circadian Rhythm Kings, "Live from the Vortex Series" and "The Sonic Sandbox Live at gallery 119".